Eligibility Guidelines
Are you eligible for a CVRP rebate? Find out here. You can also learn about the rebate limit, application requirements, the CVRP ownership requirement and vehicle eligibility.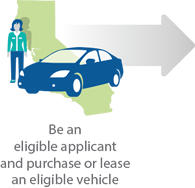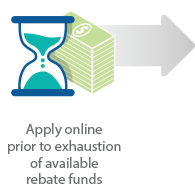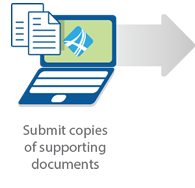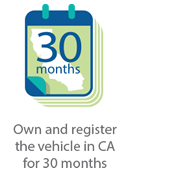 Applicant Eligibility
Eligible applicants must meet requirements that include, but are not limited to, the following:
Be an individual, business*, nonprofit or government entity that is based in California or has a California-based affiliate at the time the rebated vehicle is purchased or leased.
Meet income eligibility requirements at the time application is received.
Submit a CVRP application before rebate funds are exhausted.
Applications must be submitted within 3 months of the vehicle purchase or lease date†.
Applicants on the CVRP rebate waitlist understand and agree that an application placed on a waitlist may be subject to new Terms and Conditions and new CVRP Implementation Manual requirements should funding become available.  As a result, there is no guarantee that you will be eligible for a rebate.
Qualified applicants on the rebate waitlist will receive payment if the project receives more funding from the State of California.
At the time an applicant submits a signed application for a rebate, the most current CVRP Implementation Manual available, as well as the Terms and Conditions signed by the applicant, will apply. Both the Terms and Conditions and Implementation Manual, in place at the time of application submission, will determine an applicant's eligibility for the program. These governing documents are updated several times every year and changes may impact the applicant's eligibility for the program. The anticipated date for the next changes to CVRP governing documents can be found in the CVRP FAQs.
*Sole proprietorships and DBA's (Doing Business As; also, called fictitious business name, assumed business name, or trade name) cannot apply as a business and must instead apply as an individual. Additionally, a trust is not considered a business and any vehicle purchased through a trust will be processed as an individual application and the individual submitting the application on behalf of the trust is subject to income requirements.
†For Tesla and other vehicles ordered without a standard lease/purchase agreement, the date of first registration with the California DMV will be considered the date of purchase or lease. Applicants submitting a post-purchase application must have taken delivery of their vehicle before submitting an application. Applications received prior to the date of purchase/lease as stated above will be cancelled, and applicants will need to re-apply. Eligibility will be reviewed based on the Terms and Conditions in place at the time a new application is submitted. Extensions will not be granted.
Income Eligibility
For more details on the income cap, increased rebate amount, and income verification, visit our income eligibility page.
Income Cap

: Higher income consumers are not eligible for CVRP rebates if their gross annual incomes are above the income cap. The income cap applies to all eligible vehicle types except fuel-cell electric vehicles.

Increased Rebate

: Consumers with household incomes less than or equal to 400 percent of the federal poverty level are eligible for an increased rebate amount. Increased rebate amounts are available for fuel-cell electric vehicles, battery electric vehicles, and plug-in hybrid vehicles.
Rebate Limit
Individual and business applicants are not eligible to receive more than one CVRP rebate either via direct purchase and/or lease as of December 3, 2019. Applicants who have not already met their rebate limit prior to December 3, 2019, will be eligible for one additional rebate. Those that have already met their two-rebate limit will remain ineligible for an additional rebate. Individuals or businesses that have met the rebate limit with non-fuel cell vehicles may apply for one additional rebate for an eligible fuel cell vehicle. This fuel cell vehicle exception does not apply to Rebate Now applications.
Traditional rental and car share fleets are subject to limits of 20 rebates per calendar year. Public fleets are limited to 30 rebates per calendar year.
Vehicle Eligibility
Eligible vehicles must meet requirements that include, but are not limited to, the following:
Be on the list of

Eligible Vehicles

.
Be new as defined in the

California Vehicle Code (CVC) Section 430

and manufactured by the original equipment manufacturer (OEM) or its authorized licensee. Vehicles considered new vehicles solely for determination of compliance with state emissions standards are not eligible.
Be registered as new in California. Vehicles may not be purchased, leased, or delivered out of state. Purchases/leases must be made via a California purchase or lease contract. Vehicles ordered online and delivered outside of California are not eligible. The seller's address as reflected on the purchase or lease agreement must be in California.
Have an odometer reading below 7,500 miles at the time of purchase or lease.
Funding Availability
View real-time CVRP funding availability. If funds are not available at the time of your application, you may still apply and be placed on a rebate waitlist. Rebates for approved applications on the waitlist will be issued if additional funding from the state of California becomes available. If funds are available at the time you submitted your application, your rebate amount will be reserved when you apply online. You will receive your rebate as long as you meet all requirements and submit correct supporting documents within the given time frame.
Application Requirements
After applying online, submit complete supporting documents online within 14 calendar days of application date. Applicants with applications that cancel because required supporting documentation was not submitted within the required timeframe will need to re-apply. Eligibility will be reviewed based on the Terms and Conditions in place at the time a new application is submitted. Extensions will not be granted.
Supporting Document
Individual
Individual Selected for Income Verification
Business/Nonprofit
Government
A signed copy of your CVRP application form
X
X
X
X
A complete copy of your executed and signed vehicle lease or purchase agreement*
X
X
X
X
Proof of temporary or permanent vehicle registration*
X
X
X
X
A copy of your California driver's license
X
X
 
 
A completed and signed

IRS Form 4506-C

 and/or additional documentation to provide complete details on household size and income.
 
X
 
 
Proof of California-based business: local business license, articles of incorporation or other formation document filed with the California Secretary of State
 
 
X
 
The name of the applicant must be listed on all original documentation. For tips and other guidance, please view sample supporting documents. Please contact the administrator immediately if there is a mistake on your application form. Applicants who submit an application form with an incorrect applicant name will need to re-apply. Eligibility will be reviewed based on the Terms and Conditions in place at the time a new application is submitted. Extensions will not be granted.
Please visit What supporting documents do I need to submit for my application? for more details.
*For CVRP preapproval applications, vehicle documentation (purchase/lease agreement and proof of registration) is not required until after the applicant has purchased or leased a vehicle. If the dealership claims the rebate and subtracts the preapproved rebate amount from the vehicle price, the dealership is required to submit these documents; if the applicant claims the rebate, the applicant is required to submit them in order to receive the rebate payment.
Ownership Requirement
Retain ownership of the vehicle in California for a minimum of 30 consecutive months immediately after the vehicle purchase or lease date. Original lease terms of at least 30 months are required for program eligibility.
Register the new vehicle with the California Department of Motor Vehicles (DMV) for a minimum of 30 consecutive months* for use in California. Any government-owned vehicle not registered with the California DMV is still required to operate within California for 30 consecutive months immediately after the vehicle purchase or lease date.
Rental and car share fleets can select a reduced rebate amount and reduced ownership requirement.
*Note: CARB verifies vehicle ownership through periodic checks of Vehicle Identification Numbers (VINs) in the California DMV database. If a vehicle purchaser or lessee sells or returns the rebated vehicle to the dealer, CARB or its designee reserves the right to recoup CVRP funds from the original vehicle purchaser identified on the rebate form and may pursue other remedies available under the law for unauthorized early termination of vehicle ownership.
If you do not retain ownership or register the vehicle for 30 consecutive months, please contact CVRP staff.
Get the Details
The CVRP Implementation Manual is the governing document for CVRP. You can find detailed information on eligibility and program implementation in it.
The CVRP Terms and Conditions contain a summarized version of the requirements found in the implementation manual. You must agree to the Implementation Manual and Terms and Conditions as part of the rebate application process.